Kelsey Lynn Kramer, 16, of East Nantmeal Township
, died tragically in the early morning of September 23, 2011 from injuries she sustained in a single- vehicle car accident on September 21st in East Coventry. She was the daughter of William A. Jr. and Lori A. (Glynn) Kramer, and sister of Kyle W. Kramer.

Kelsey was a junior at Owen J. Roberts High School where she played soccer for both the varsity team and the Vincent United Jaguars travel team. She started soccer when she was 5, playing on various recreational leagues then progressing to Coventry Soccer travel team with a final transition to the Vincent United Jaguars travel team. To enhance her skills, Kelsey did speed training and condition programs at Parisi Sports Performance Center. She enjoyed listening to music, liked to dance, loved to shop and loved the beach. Kelsey was an athlete and an honor student. She knew the importance of excelling and keeping the balance between the three facets of her life- School-Sports and Social. Kelsey juggled this better than most teens and made sure that each day was comprised of all three elements. Kelsey enjoyed spending time and having fun with her family and friends. She loved life and lived life with no regrets. Her sparkling eyes, extraordinary smile and loving spirit will be sorely missed. Kelsey will always be remembered for living every moment to the fullest and touching so many hearts and so many lives.


On September 28th, Brandie Kessler of the Pottstown Mercury wrote: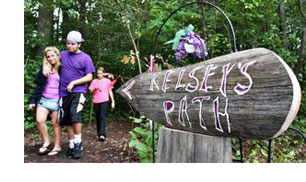 "As family and friends gathered to say a final goodbye to the girl whose smile they will never forget, Kelsey's Path sits waiting for them in the woods along Bethel Church Road, leading the way to a place where they can always remember her. Kelsey was traveling north on Bethel Church Road when she lost control of her vehicle and struck a tree. That tree is now the site of a memorial for Kelsey. What started out as a single bouquet of sunflowers has grown into a very substantial memorial, with dozens of flower bouquets, stuffed animals and a cross with countless signatures and memorial wishes. The makeshift memorial was given more permanence when a group from Bethel United Methodist Church made a path to it and put a bench there. A hand-carved wooden sign marked "Kelsey's Path" sits at the entranceway to the path, located on the church's property adjacent to a Boy Scout retreat. The path goes through the woods, providing a safer way to access the memorial than walking down the road."

An OJR Staff member, Ravina Breden summarized it well:
"This tragedy has devastated the OJR community. Kelsey's death has united so many. May they continue to be united as time continues (as Kelsey would have wanted). Kelsey showed all what life should be about, she always was positive, always was a friend to EVERYONE no matter what. She never judged anyone, she loved all, she made everyone feel like they were her best friend because she gave her all to everyone and everything she did. I will cherish the memories she blessed me with from the time she played tag in elementary school, her fun stories in middle school to her achievements in high school. Kelsey Kramer exemplified her love of life. She is truly a role model for others. Rest In Peace Kelsey. We will miss you"


Below are some of the many articles that covered the tragedy or mentioned Kelsey in the days that followed her passing.